Build and maintain a 3D digital twin of the real world with /AR Cloud/.
Jérôme Royan, chief architect in charge of augmented reality, virtual reality, and machine learning, will present the b<>com /AR Cloud/ platform through a collaborative augmented reality application that allows live 3D content to be viewed on the stand and its surroundings, using a augmented reality headset and a tablet.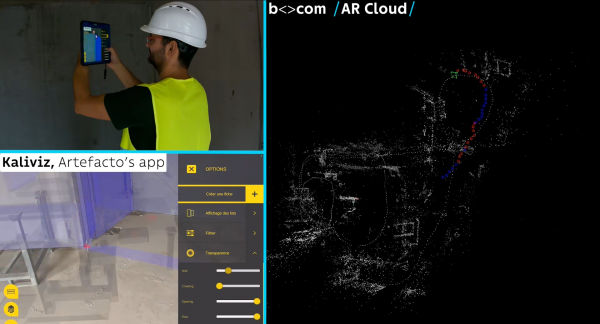 b<>com /AR Cloud/ is a cloud-based or edge-based augmented reality platform capable of being used on large-scale sites, such as a building site or in a factory. Based on a private Wi-Fi or private 5G network, this technology enables large-scale augmented reality experiences, such as displaying the digital twin of a building under construction to monitor compliance of the work.
This sovereign platform enables persistent, accurate and collaborative augmented reality experiences in complex, large-scale and dynamic environments (such as factories or building sites). Thanks to the services available on the platform, a common 3D mapping can be produced and updated of the real environment using all the augmented reality devices connected to it (HoloLens, IOS or Android tablet), while precisely locating these devices in the real environment. In partnership with Eiffage, Artefacto and Siemens, this platform has been tested out on building sites or in factories in order to address several augmented reality use cases, such as compliance checks, navigation and maintenance support.
Optimize your system design with *Ngagement*.
Guillaume Jégou, head of the human factors technologies lab will present the functionality of the virtual reality platform, particularly through a use case on the design and layout of a control room. A multi-user demonstration using both a PC and virtual reality is also planned. 
b<>com *Ngagement* is a virtual reality behavioral design and analysis tool that integrates the tools to design, audit, and test richer complex environments with agility. These environments can be designed with built-in immersive tools or imported from digital twins representing real spaces.
It allows the exploration of new concepts and the reduction of risks related to the use of future complex systems right from the early design phases. By immersing the user in a digital twin of the future environment to be understood, the use of the system can be evaluated before it is put into production, thus accelerating the time to market and reducing the costs linked to difficulties in use.
This technology offers several advantages: 
Design, simulation, and testing with end-users;

Access to standardized tools for measuring human factors

Leveraging AI and cognitive technologies to objectify interaction, performance, and acceptance measures.
This show will also be an opportunity to discover b<>com's training offer on these different technologies.
Training [AR Cloud : Augmented Reality in the Cloud] guides you through the use of b<>com /AR Cloud/.
Training [Acceptabilité psychologique et physiologique des univers immersifs] facilitates the acceptance of immersive technologies by the end-users, in particular by ensuring the comfort of use and by preventing the risks of use.
Training [Analyse comportementale par bio-capteurs] provides a specific methodology for the optimal adoption of physiological sensors to guarantee the collected data's usability.
book your private appointment with our experts: