Indeed, the ITEs (Institutes for Energy Transition) have joined the IRTs within FIT, with the aim of uniting the various organs of French technological innovation under the same banner. Together, the IRTs and ITEs represent nearly 730 technology transfers as well as 900 patents and software applications.
A morning dedicated to demos
Themed areas presented the institutes' latest technological innovations in connectivity and digitalization, health, artificial intelligence, energy and environmental transition, mobility, the industry of the future, sovereignty and security.
This gave b<>com's teams the opportunity to present the following 3 demos:
Démos b<>com
b<>com *Wireless Edge Factory*, 5G à la carte!
Businesses find the promises of 5G to be tantalizing: More connectivity with less latency, better security, and a lower cost. Thanks to its researchers and its involvement in multiple European projects and in standardization, b<>com has developed the *Wireless Edge Factory* technological solution, a private 5G mobile network facilitator. This solution makes it possible to easily deploy and manage an ultra-secure 5G network, in order to guarantee flawless connectivity and quality of service for priority streams in critical situations.
b<>com [Terminal Authentication], protecting your personal data with full transparency
In order to fight cybercrime, multi-factor authentication methods are now essential for protecting user data. b<>com [Terminal Authentication] is based on the browser and terminal fingerprinting technique. For the user, it provides an additional transparent layer of protection to the password authentication process. By associating a user account with the hardware/software configuration and the browser environment, its approach prevents hackers from using login information acquired through phishing attacks.
b<>com [3D Localization], real-time Augmented Reality for surgery
Today, surgeons use navigation systems with position markers placed on devices fastened invasively on the patient. These systems are often costly and expensive.
This solution is a sensor-free 3D object locating and tracking algorithm that uses RGB-D depth cameras. It can be used in real-time Augmented Reality applications. In the case of orthopedic surgery, this technology helps the surgeon accurately position a custom cutting guide as part of surgery for installing a knee prosthesis. Finally, this technology is not invasive because it does not use markers.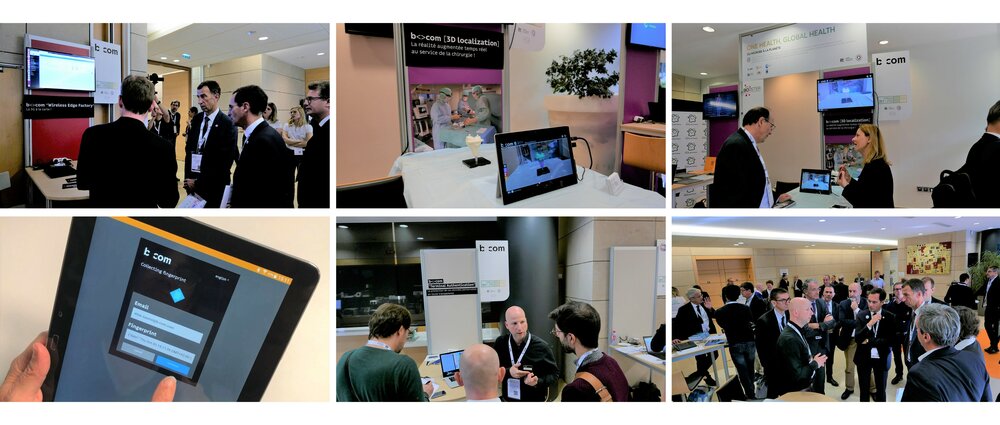 A plenary in the afternoon
During the plenary session, b<>com was mentioned several times. Guillaume Boudy, Secretary General for Investment (SGPI), highlighted the year's big successes, among them a first-of-its-kind surgery carried out with the help of b<>com.
Cedric Hardouin, Executive Vice President R&D of Viaccess-Orca, testified to the success of the partnership initiated in 2019: "With b<>com, in 10 months we developed an ultra-competitive anti-piracy solution", referring to the dynamic watermarking technology that earned a prize at IBC 2019.
Vincent Marcatté, Président de FIT et de b<>com, a conclu sur le talent des doctorants venus présenter leur thèse en 180 secondes et une note d'espoir ambitieux pour le futur des instituts, acteurs privilégiés du rayonnement de l'excellence technologique française à travers le monde.