b<>com was selected at the Broadcast Engineering and Information Technology (BEIT) Conference by the NAB SHOW for its paper "The 5G Opportunities for Contribution and Digital News Gathering Applications" written by Mathieu Lagrange, Networks & Security Director, and Ludovic Noblet, Hypermedia Director. As the event is going digital with the NAB SHOW Express, you will get access to the full presentation online here on May 13.
Discover the challenges that most firms are facing with 5G and how b<>com can already help you thanks to the most lightweight & compact cost-effective solution on the market: b<>com *Dome*. After reading this, do not hesitate to take your shortcut to 5G: Book a private session with our experts!
Businesses are facing major challenges right now regarding 5G deployment
Due to the demand for industrial automation driven by IoT sensors and analytics, there is a strong appetite for businesses to deploy their own private cellular network without relying on incumbent network operators. This momentum has led governments to reserve frequencies for regional assignments by contrast to nationwide assignments (for instance: in the US CBRS - Citizen Broadband Radio Spectrum, 150MHz at 3.5GHz; Germany: 100MHz in 3.7-3.8GHz; France: 40MHz in 2575-2615MHz).
But there are factors that are hindering the adoption of the technology. The complexity of cellular network implementation and communication services deployments for enterprises that have no prior experience of cellular network operations is one of them. There is also a lack of cellular solutions able to both compete with Wi-Fi-based solutions for on-premises deployments and able to deliver on performances and QoE from the perspectives of costs and simplicity.
b<>com *Dome* offers 4 main assets to businesses:
A reduced TCO
Very high scalability from very compact hardware footprint to more significant ones depending on the customer's context
The ability to orchestrate network services and Edge applications altogether in the same cloud-native environment, leading to outstanding performances
The ability to deploy configurations that are not (and won't be) supported in public networks while still preserving security and data privacy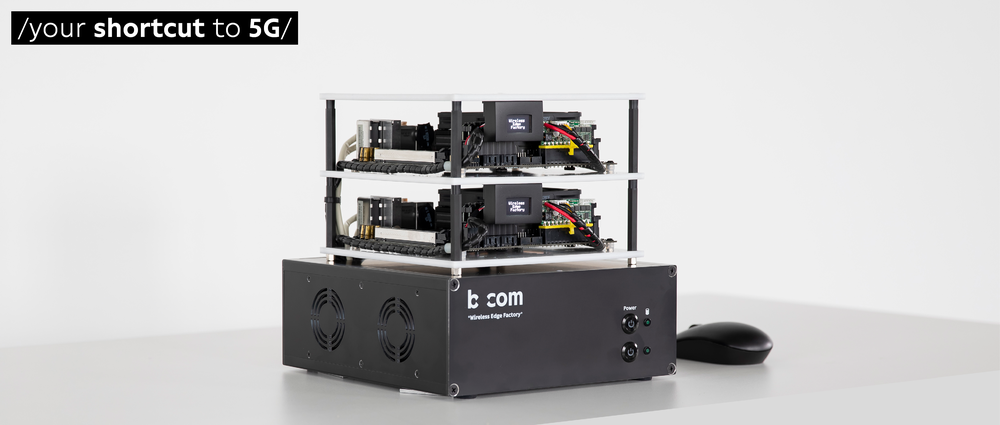 Business case
Let's take the use case originally planned for the NABSHOW: some ruggedized video modules designed for newsgathering are transmitting high-quality video streams on a wireless network to a remote video transceiver ultimately, a distribution platform. The solution is full software and offers on-demand deployment of network slices with configurable QoS parameters, allowing the prioritization of those video streams when the network gets congested. Additionally, the light and easy integration of b<>com connectivity solution and of applications at the edge leads to superior performances especially with regards to latencies.
Ask for a demo!
To make an appointment for a private session around 5G opportunities with our experts, please send an email to sales@b-com.com