Catherine, what are the benefits of b<>com *Training* services?
Qualiopi-certified, b<>com *Training* services offer a wide range of training in technical expertise. We thoroughly analyze our clients' training needs and objectives beforehand. Then we adapt our content and our teaching methods.
Can you share the findings of the first customer satisfaction surveys?
A few months after its launch, b<>com *Training* service has received excellent customer feedback! 93% of participants find our training courses very satisfying.
Furthermore, discussions with the tutors about our customers' specific issues are very much appreciated: our trainers' expertise is 100% approved.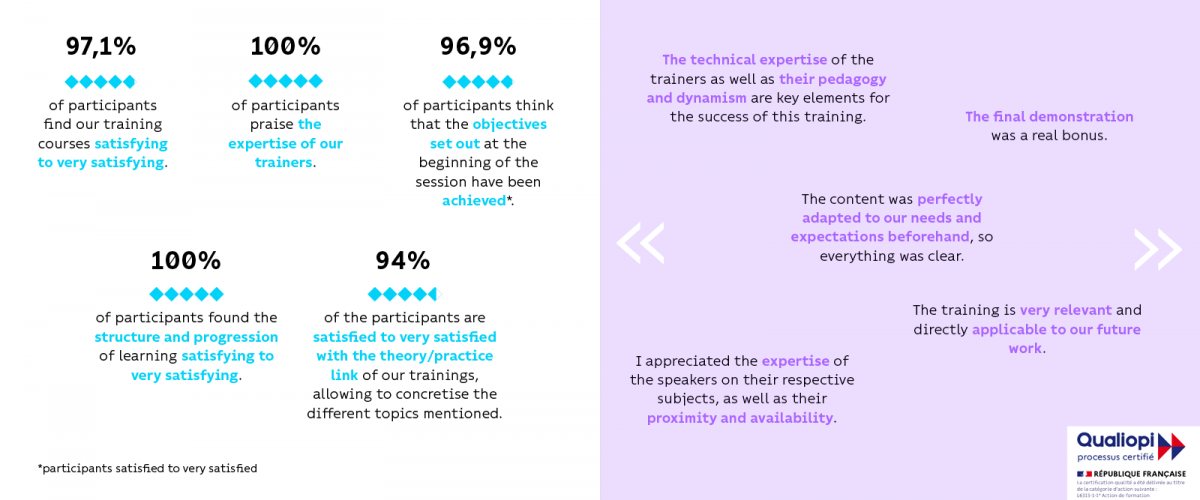 Why add consulting services to the offer?
New technologies bring new opportunities but also numerous questions. We have established that beyond the need to train their teams, businesses sometimes have to address broader issues relating to the advent of new technologies that modify their services or processes. The complexity and diversity of these technologies are sometimes difficult to grasp.
The range of our offer allows us to deal with a wide spectrum of subjects, from a non-specialist perspective to skilled expertise. The b<>com *Training* service is now building on this to include a consulting service.
What does this consulting service offer consist of?
Our experts help our clients understand the latest trends and technical advances in their sector.
They also share their research and the lessons of their own experience.
Together, we determine the most suitable arrangement, from one hour to one day, remotely or on site. Our service can take different forms. We identify the requirement together and then adapt the recommended method: training or consulting services.
What types of issues are addressed?
The subjects are extremely varied and we study all types of requests. One of the great strengths of b<>com experts is that together they cover a wide range of expertise.  Here are some examples to give you an idea of the range: signal processing, history of telecommunications, 3GPP, optical networks, 5G, the impact of artificial intelligence on society, mixed reality, computer vision, interoperability of metaverses, medical imaging, 3D pose estimation, color science, digital citizenship, the contribution of foresight, instructional design, immersive learning, etc...
Feel free to download our complete catalog. The first part of the catalog details our training courses, the second part the consulting services.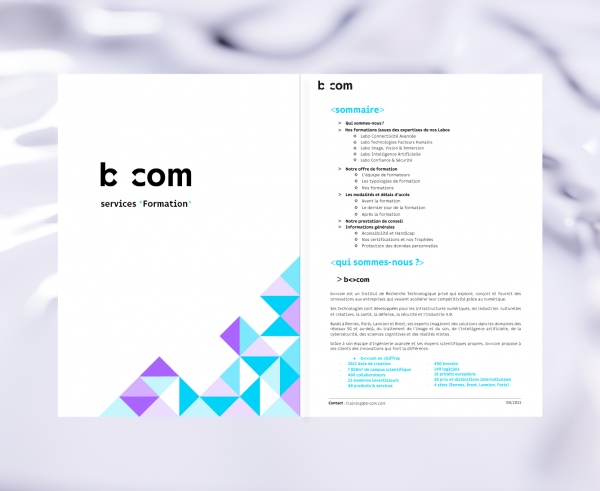 Thanks to our researchers, get trained in 5G, whether for initiation or for an in-depth training. Discover our trainings on the dedicated page:
Our experts also offer *Training* services at all levels on various subjects such as Artificial Intelligence, IoT, Augmented Reality in the cloud, foresight and responsible digital, holography or human factors. Discover our trainings on the dedicated page:
Contact Catherine to discuss your needs: