Tiffany, the IEEE VR conference took place online this year. Can you tell us how that happened?
IEEE VR was scheduled to take place in Atlanta from March 22-26. Since it couldn't be held in the real world, the organizers opted to make it a virtual event instead. All of the presentations of scientific papers and keynotes were broadcast live on Twitch. At the same time, virtual spaces called hubs were created in Mozilla Hubs. These rooms, which could only be accessed by registered conference-goers, allowed users to ask speakers questions after their talks, see demonstrations as though they were at real physical booths, interact with other attendees, and take part in social events like parties and meet-ups. Within those hubs, attendees were depicted as custom avatars. You could move through the space either from a web browser or via a virtual reality headset. The audio was also spatialized; just like in real life, stepping away from the crowd was all it took to have a private conversation!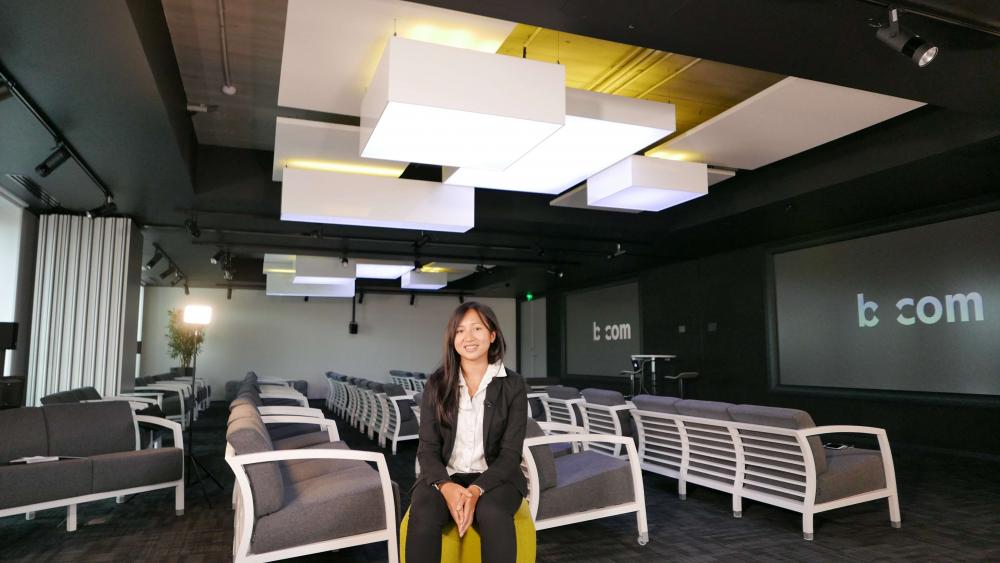 Rather than just attending, you were also a virtual speaker for the first time, right?
Yes, I had the chance to present one of my scientific papers about mental workload in virtual reality education apps. IEEE VR is a top-tier conference ("rank A") for scientific papers. I have to say it's rather strange to present a paper alone in front of your screen, knowing that hundreds of people might be listening!
At the same time, I took part in the 3DUI Contest with the Hybrid team from Inria Rennes on the subject of "Embodiment for the difference". The goal of the contest was to create virtual reality apps aimed at fostering a sense of empathy, especially for people with disabilities. We chose to create a virtual world where all interactions required using three arms, so that users would feel like they were missing out. Our hub got many visits and we took second place in the 3DUI Contest!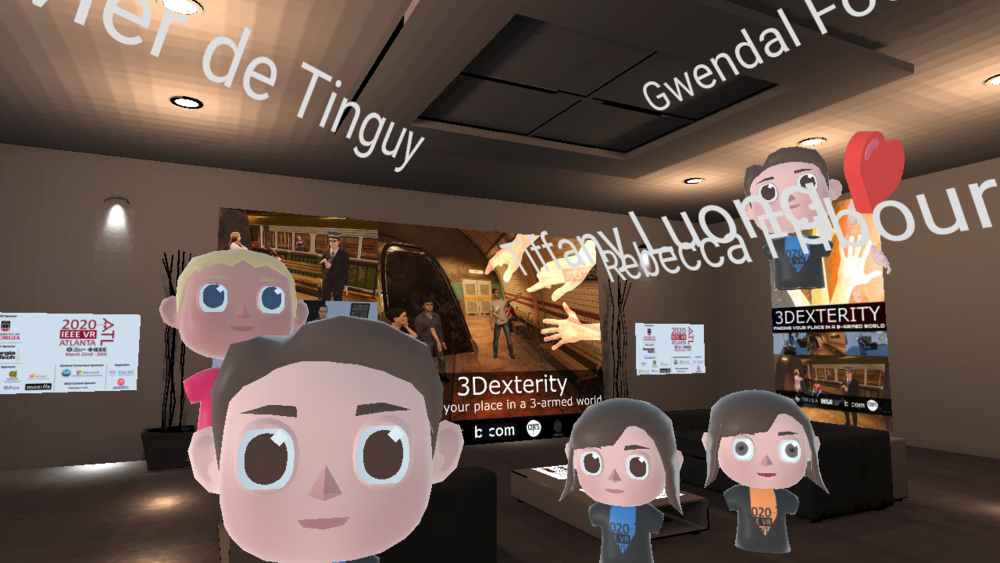 Ultimately, how did you feel about the event?
It was a very good experience and a great success for IEEE VR. There were very few bugs, mostly having to do with attendees' own connection issues. It's a bit frustrating not to be able to try out the demos in person, but the virtual hubs allowed for networking and discussion with other researchers, in some cases even more easily than real life! Being portrayed by avatars might even break down barriers of age or status. However, it should be noted that not all attendees had the same ability to participate in the conference, particularly owing to the time difference and the fact that not everyone has their own virtual reality headset. When I talked with other attendees who were using a headset, many of them said that they really felt like they were "present" with other users, which can be a good thing at a time when everyone is staying home.