This year, b<>com was presenting its latest technologies for HDR-SDR conversion in South Upper Hall in the French Pavilion. Already honored by the NAB SHOW Technology Innovation Award in 2017, this year b<>com won the Product of the Year Award for its [HDR-SDR Converter] technology. This peer recognition of b<>com's asset in quickly delivering profitable innovations to the market was also enlightened during the show by customers and ecosystem partners such as BBright, Harmonic, Embrionix, Intel, Dolby, and UHD Forum (read the article here).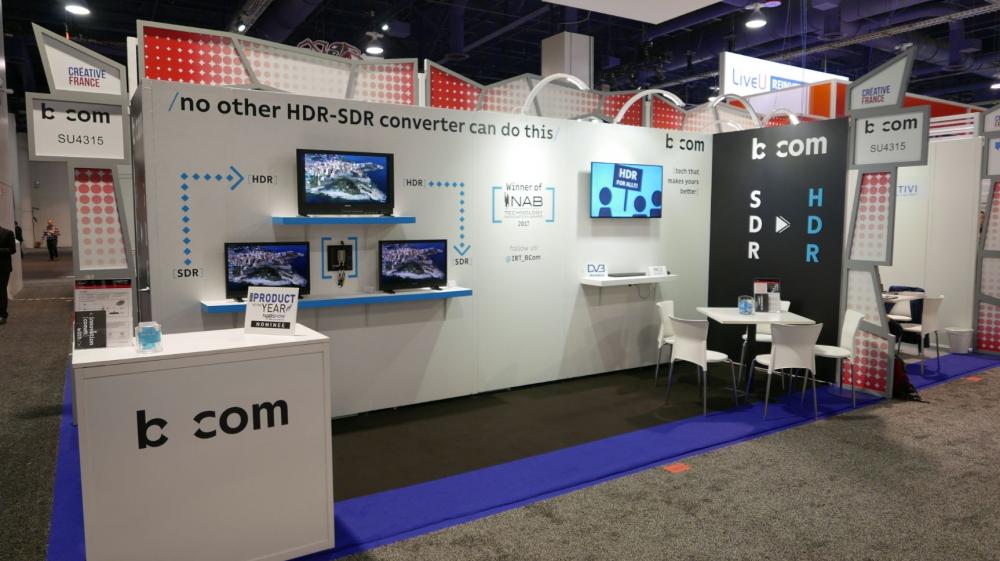 Takeaways:
Moving towards virtualization/cloud-based technologies is no more questionable
SMPTE 2110 is going mainstream
4K HDR is getting commoditized
Advanced augmentations for sports and news TV production
Emerging 8K
Buzzwords or reality?
UHD 4K and HDR are realities, definitely. The level of maturity reached by the industry should now enable a rapid commoditization of UHD 4K content production, including HDR compliant workflows.
Targeted Advertising was showcased by several companies such as Enensys together with TDF in a broadcast context (HbbTV) or Imagine Communication and ARRIS for streaming.
Content security remains, years after years, a major concern for the industry and is still a driver for innovation as streaming video is a developing platform for piracy. The usual suspects (Content Armor, Verimatrix, Nagra) showcased technology in order to address the associated business problem.
5G was in many discussions, not just a buzzword. Whatever it was about distribution or remote production for instance. With the advent of a broad offering of cloud-based solutions for media processing which can be seen as virtualized network functions, 5G brings the flexibility to combine those offerings with features such as low latency, slicing for QoS management. This will ultimately provide the media industry with new levels of costs efficiency and automation for production, distribution, and personalization. There is no doubt that 5G will be a big topic as well for the next IBC edition. 
8K displays were showcased by several CE manufacturers like Sony, Samsung, Panasonic and it is impressive but it's just a taste of it. Quite impressive though, in the Future Zone, at NHK's booth, a super thin 8K screen displayed several 8K short films: The opera Rigoletto by Verdi, A battle of Sumo, The Palace of Versailles… The definition was so detailed that it was really immersive: you can have 100 musicians on the screen and be able to see if they are sweating for instance!  Now, the question is: who's going to invest in 8K content production and distribution to the masses.