The production and distribution of live content are essential today to broadcasting players. However, these applications aren't just demanding when it comes to bandwidth, latency, and quality of service; they're also subject to significant operating costs. b<>com's 5G technology *Dome* addresses these technical and economic issues. Compact and mobile, the solution can be deployed wherever a radio signal is available and can be put to the task of serving up live streams.
The live demo at IBC will particularly show how "slicing", a 5G-specific feature, makes it possible to cut a network up into several virtual segments. Doing so makes it possible to configure different streams based on usage needs (priority, reliability, latency, bandwidth capacity, etc.). In concrete terms, when covering an event live, the risk of a congested network is high. 5G makes it possible to create different slices and ensure a quality video stream on whichever one is defined as the priority, even if the network is swamped by users. The demo will enable the visitor to see in real-time the difference in video quality between a priority slice and "best effort" slices. Images of the Notre Dame cathedral fire, used with the permission of CNEWS, were chosen as an illustration.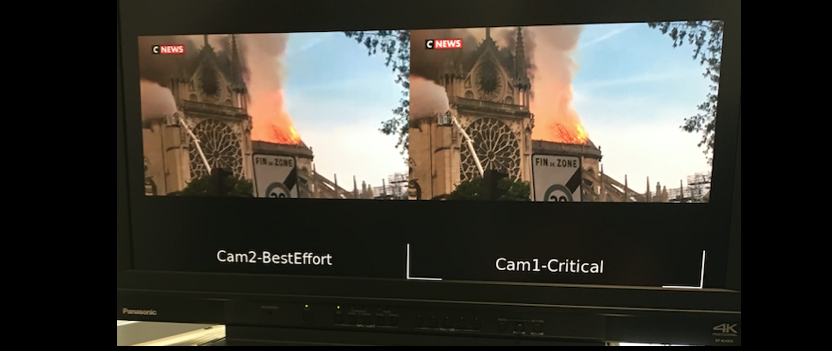 b<>com *Dome* also makes it possible to incorporate advanced virtualization functions (cloud or edge), e.g. for processing content between capture and distribution (mixing, graphics and sound, etc.), allowing for remote production, which considerably reduces operating costs.
This demonstration reflects the partnership announced in the summer of 2018 between b<>com and Aviwest to build the retransmission systems of the future."Working with b<>com allows us to have good insight into the future and understand emerging trends in technology. This enables us to adapt and therefore anticipate our clients' eventual needs," explains Erwan Gasc, CEO of AVIWEST.
An investor-member of b<>com, Aviwest designs, develops, and markets complete video distribution solutions intended for the broadcasting and media market (transmitters, receivers, video encoders, etc.). "Our next step will be to work with b<>com on developing a new low-bitrate, low-lag video compression system. What this technology will allow us to do once integrated into our products is to make them even more effective. We're also evaluating upcoming major changes like the arrival of the 5G network," adds Erwan Gasc.