b<>com was exhibiting for the first time in the IoT Hall, and the b<>com teams unveiled two exclusive demonstrations:
b<>com *Wireless Library* [Wireless DFE] : multi-standard digital front-end for LPWA receivers.
b<>com *Unifier GW*: flexible convergent wireless gateway.
b<>com was representing the European 5G Ensure project and its partners at its stand: VTT, Thales, Nokia, Ericsson, IT innovation, NEC, Nixu Cybersecurity, Orange, SICS, Thales Alenia, Telecom Italia, Trust-IT Services, and the University of Oxford.
Besides the unavoidable effects of media announcements especially in the field of smartphones (for 2017: The Xperia Touch projector that turns any surface into a touchscreen, Sony's launch of the first 4K HDR smart phone, and the comeback of the Nokia 3310), our experts on the site spotted three major trends:
Promises for 5G
Like Nokia, which used the event to announce its first 5G platform, named "5G First", or Orange, which promises to bring 5G on the market by 2020, several companies made big announcements about 5G without showing truly convincing results. It is more about a marketing launch than proper preparation for deployment, which is not surprising since standardization is fully completed at 3GPP and the switch to 4G is not yet complete. In a joined press conference, the 5G-PPP consortium and the European Commission claimed their intention to experiment 5G "in the real life" (unlike Asia who will test it mainly during Olympic games in Korea 2018 and Japan 2020) and presented cities like Amsterdam and Turin as leading cities in this respect, but for now this remains merely an ambition.
The automotive industry, or more generally transport, constitutes one of the main 5G business cases: the autonomous car is often highlighted but other use cases such as maritime transport could more quickly pass experimental phases.
Things are moving with IoT!
In 2016, the EC-GSM (extended coverage) was put forward at MWC. After a year and deceiving experimentation results, the new star of the Congress is now NB-IoT (Narrow Band). Recently standardized and already under testing by several operators (among which Vodafone) with the support of manufacturer Huawei. Operators believe strongly in LTE-M technology or LTE-MTC (Machine Type Communication), an evolution of 4G-LTE for the Internet of Things. The French group Orange joined with eight major operators (Telefonica, NTT Docomo, AT&T, Verizon) to promote this technology. It will be available through a software update of the 4G network infrastructure. The remaining question is will this solution will hold its promises, in terms of performances, energy efficiency and price compared with other technologies like LoRa, Sigfox or Ingenu? On the matter of IoT, Sigfox also drew attention through the agreement it has just signed with Telefonica, which will use its network to deploy IoT solutions. This contract is said to cover "several million objects." To illustrate the benefits of its standard, Sigfox also used the MWC to announce that it would connect, via its foundation, African rhinoceroses in order to protect them from poaching. On IoT, the main trend would be a distribution of the market by each technological solution, without predicting today if all technologies will survive on the long-term.
Automakers want their share of the cake
Like CES 2017, where autonomous cars were a major theme, many vehicles were exposed at the show and many brands announced partnerships with mobile operators to bring 4G technology onboard. Examples include Peugeot, Volkswagen Mercedes, and Ford. Beginning in 2018, all of Ford's vehicles made for Europe will include a 4G/LTE modem with a Wi-Fi hotspot, the result of a partnership with the operator Vodafone.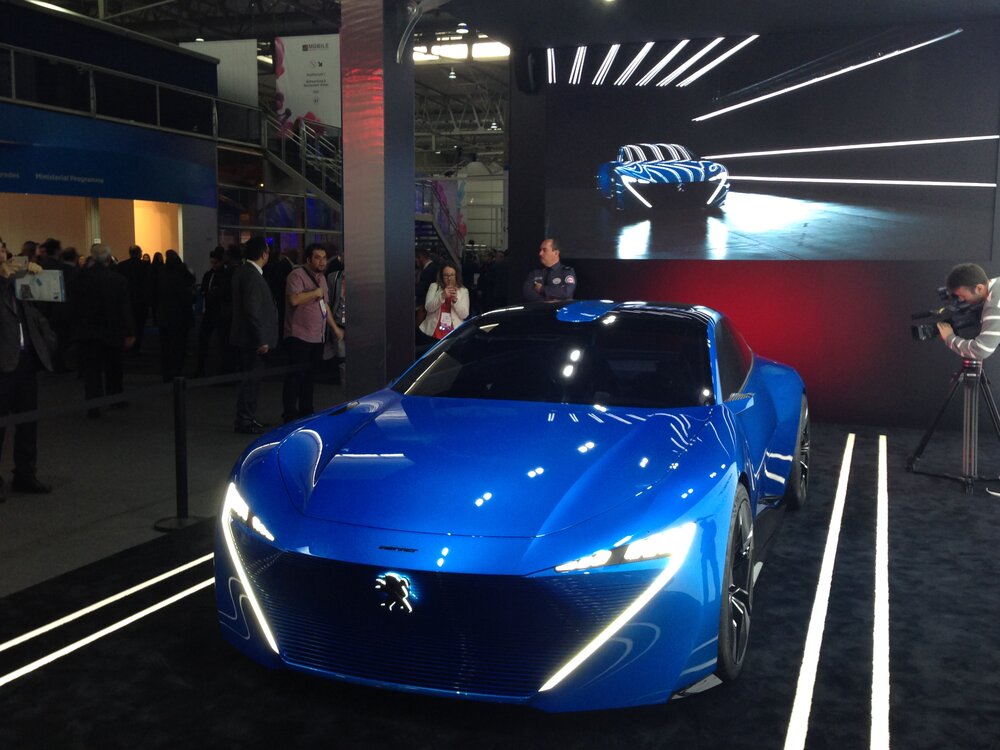 The other major themes of the 2017 edition included artificial intelligence and the impact of virtual assistants and chatbots on the evolution of industrial firms' products and services.