Within a space devoted to medical technology, and supported by Business France, b<>com is bolstering its position among the innovative providers of technology to the world of medicine, and will offer two exclusive demos:
/ SDR-HDR for medical /
sharp images. sharp surgery.
Winner of an award at the NAB Show in Las Vegas last April, b<>com [SDR-HDR Converter] technology will be presented in its medical version. It makes it possible to convert SDR (Standard Dynamic Range) content into HDR (High Dynamic Range), intelligently and in real time, to optimize display on HDR and 4K monitors. The quality of the HDR format applied to medical videos, offers better contrasts in dark and light areas and a broader range of colors, giving medical teams a better view of textures on organs. This demonstration relies on images from Rennes University Hospital Center, a partner in the research project.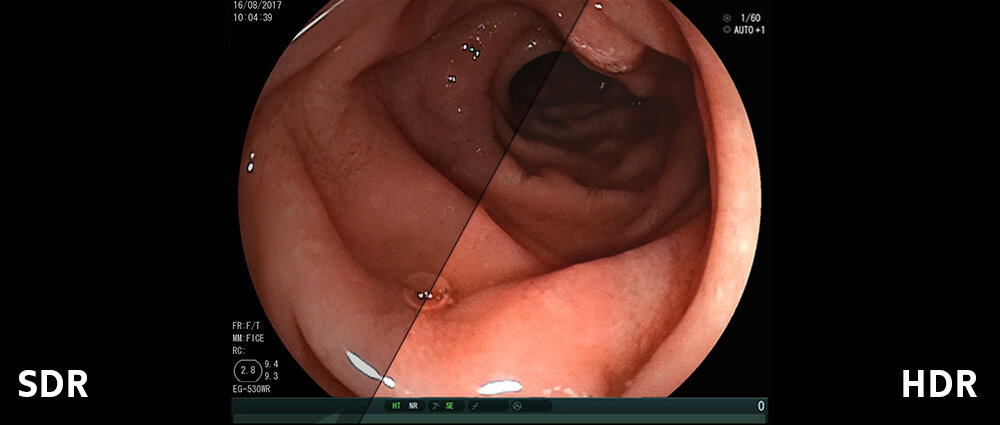 / 3D Localization /
tech that unlocks navigation
3D localization of objects (organs, devices, equipment) has become essential to supporting diagnostics and therapies, particularly in image-guided surgical procedures. However, current solutions remain expensive, complex, and sometimes invasive for the patient. To overcome these obstacles, b<>com has chosen to work with RGB-D technologies used in depth cameras. 3D localization technology enables the detection, location, and real-time tracking of 3D objects in augmented reality applications. It is non-invasive and requires no markers. At MEDICA, the teams will show how, by using this technique, it is possible to measure the angle of flexion and abduction of the lower members in pre- and post-operative care, without difficulty.
Also to be presented in their new version:
b<>com [Rest DICOM Library], a medica imaging download tool, in accordance with the recent DICOMWebTM standard that optimizes the secure transfer of images via web interfaces without needing to install software on the customer's workstation.
b<>com *Surgery Procedure Toolbox*, a series of tools that enable the modeling, display, and documentation of surgical procedures, particularly through video observation.
Come meet our experts in hall 17 - booth A23!