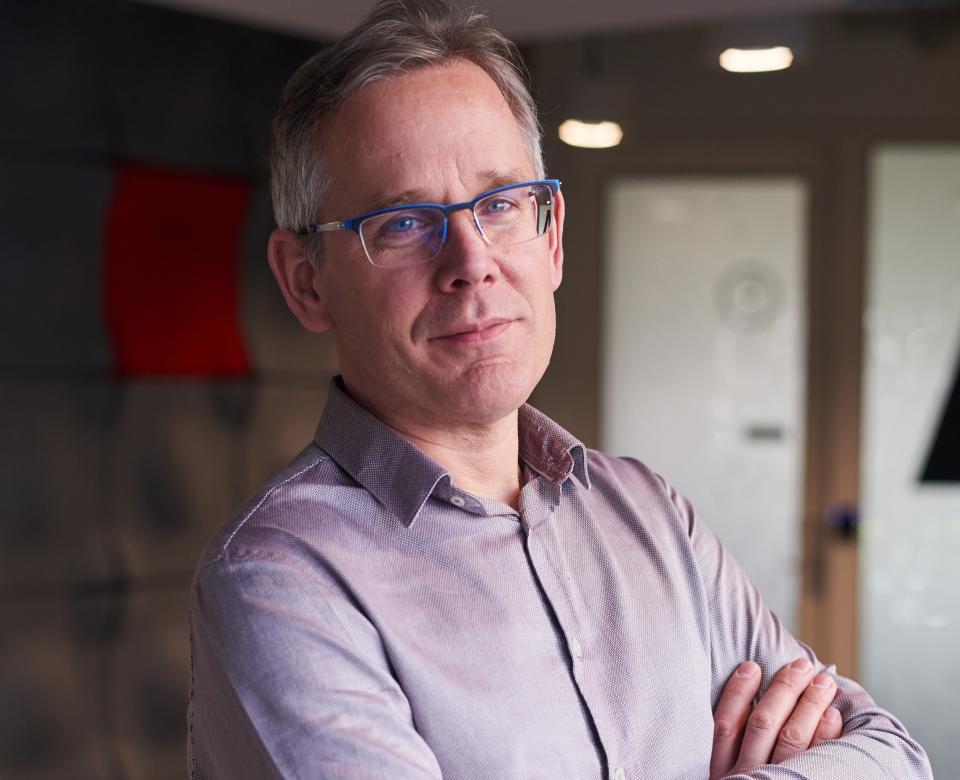 Interview
When the teams at b<>com and Broadpeak, a global leader in video distribution software over IP networks, pooled their skills, it accelerated the development of a Content Delivery Network (CDN) orchestration solution for 5G.
In a time when video streaming consumption is moving to mobile/5G networks (with a smartphone, a tablet, etc.) Broadpeak wanted to innovate and enrich its video distribution solutions with orchestration features.
This collaboration, supported by the government of the Brittany Region, has enabled Broadpeak's teams to innovate rapidly by taking advantage of the 5G testbed provided by b<>com *xG Testbed* services. b<>com's recognized expertise in the field of mobile standardization (3GPP) was key to ensuring the interoperability of the solution.
Guillaume Bichot, Principal Engineer and Head of Exploration at Broadpeak, tells us more about its "Cache Orchestrator", which was previewed at the last MWC.
You were at MWC last June, where you presented your new CDN (Content Delivery Network) orchestration solution for 5G, designed with b<>com: What does it consist of?
Our Cache Orchestrator solution fits into a completely virtualized environment where a network function is no longer a physical machine but a software instance with its own execution environment called a container.  The Cache Orchestrator feature enables the management of video cache instances for one or more content providers in a distributed cloud computing environment, which is becoming increasingly prevalent among telecom operators as data centers or micro-computing centers emerging at the core and edge of the network.
The Cache Orchestrator not only deploys and redeploys cache instances but also allocates and reallocates video streaming sessions to these video cache instances based on multiple criteria such as [micro-]data center resource status, content type, popularity, network constraints, expected QoE and business rules. The challenge is that these dynamic changes must be able to occur at any time without degrading the user experience.      
How was this innovation received at the world's largest mobile phone event?
Our Cache Orchestrator has been extremely well received. One of the things that video service providers come to us with is the problem of audience peaks for very popular live events, such as sports.
These programs regularly generate very high levels of traffic, so that their distribution networks (fixed and mobile) can no longer keep up. This often results in a poorer-quality user experience (latency, image freezing, worse video quality, etc.). Broadpeak's Cache Orchestrator solves this problem, allowing streaming capacity to be deployed where and when it is needed, as close to the users as possible.
5G is reshuffling the deck and opening the doors to a market initially reserved for telecom players. As you are now addressing cloud providers and integrators, how are you experiencing this transformation?
We are involved in several collaborative efforts around video caching applications within a mobile telecom network with three types of partners: Telecom operators, public cloud services operators who now offer application deployment services at the edge, connected to the telecom network as close as possible to the user, and finally smaller cloud services operators who may deploy their computing centers in conjunction with one or more telecom operators, and who offer APIs to simplify the management, deployment, and control of applications.
These players are very hungry right now for applications that justify deployment within a telecom network, offering solutions with different levels of maturity, but they are willing to do anything to facilitate the deployment of our application. This is a very interesting window of opportunity; our ambition is that our Cache Orchestrator should be flexible and adaptable enough to fit the different types of environments offered by all these players.
How has working with b<>com helped you get your solution to market faster?
Broadpeak benefited from Cloudlet infrastructure (a mini-computing center with an integrated LTE/5G mobile network interface) developed by b<>com as part of its *xG Testbed* service offering; it is based on the Kubernetes virtual infrastructure manager. We have jointly developed a set of APIs, not only to simplify the management of video cache instances, but also to interact with the network regarding traffic routing for example. It's a job we couldn't have started on our own. The partnership with b<>com allowed us to validate our solutions and to put them into practice, an essential step before confronting different operational environments as mentioned above.
How has b<>com's expertise in standardization been one of the decisive factors in the development of your solution?
It is true that the expertise of the teams involved allowed us to strengthen and enrich our knowledge related to the mobile network environment (3GPP), the ETSI MEC architecture (which served as a basis for the definition of the APIs used by our orchestrator) and the Kubernetes environment. Mastery of these environments was a decisive factor in setting up our cooperation with b<>com and proved essential during our joint work. We spoke the same language, which is what helped the rapid development of the solution within b<>com, despite the difficult conditions due to the Covid-19 crisis.
b<>com *xG Testbed* services