Vincent Marcatté
Board
President IRT b<>com / Vincent Marcatté, open innovation Director at Orange / President Images & Réseaux cluster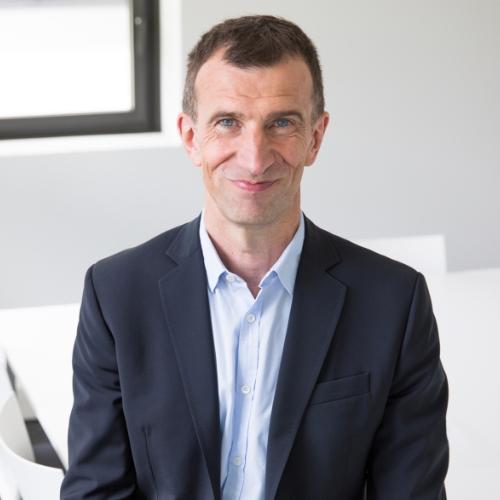 Vincent Marcatté is the Vice-President of Open innovation at Orange Labs. He has also been the President of the Institute of Research and Technology (IRT) b<>com since its creation in May 2012 and elected President of the IRT Association (FIT) in March 2017. He has been President of the Images et Réseaux worldwide cluster since the end of 2008, where his efforts have resulted in an increase in both members and projects. Vincent is also a project leader under the government's Nouvelle France Industrielle plan for Augmented Reality within the Intelligent Objects solution.
Highly involved in the local ecosystem and committed to ensuring that the excellence of Brittany and Pays de La Loire technology is recognized, he is a member of the board of management of Bretagne Développement Innovation, as well as the administrator of the Ecole de Design de Nantes and the Cité des Télécoms. He is also a member of the Comité Carnot, and one of the very few French members of the ISTAG, the reference body which advises the European Commission on strategic orientations for ICT research.
As a man who likes a challenge, he chairs b<>com with one guiding ambition: to take the Institute into the leading group of worldwide digital names.
At Orange, he led the open innovation strategy within the various ecosystems the Group is involved in, whether this meant relationships with academia and industry, cooperative French and European projects, or connections with innovative SMEs, entrepreneurs, developer communities, particularly under the French Tech initiative.
During his career, he first took part in creating France Telecom's first Internet platform, which lead to the emergence of Wanadoo. Thanks to his visionary involvement from the very early days of the Internet, he has established a reputation for himself as an expert and represented France Telecom for several years at the World Wide Web Consortium (W3C). He has been the Manager of an R&D laboratory that specializes in Web and Audiovisual convergence which saw the creation of three start-ups  (Envivio, Streamezzo, WokUp) that have since been bought out by other companies. He was also R&D Director of Orange Labs in charge of technology.
Vincent is a graduate of ESIGElec and the Executive MBA program at ESSEC Paris.